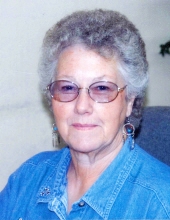 Obituary for Shirley Jean Settles
Shirley Settles, 78 beloved mother, grandmother, and great-grandmother passed away on Saturday November 8, 2014.
Shirley was of the Baptist faith and attended Faith Baptist Church. She loved to collect antiques, play her guitar, sing music, and play with her grandchildren and great-grandchildren.
She was a staple of the Bledsonian Banner for over 36 years. She also entertained her readers with her annual winter weather forecast.
She was preceded in death by her parents; Eldern and Roxie Gilbert and a sister; Sue Coda.
Left behind to cherish her memory are her husband of 59 years; John Settles, son, Mark Settles, daughters; Robyn (Mackey) Dunn and Tammy Mathes, grandchildren; Bri-Anne Simpson, Kimberly Dunn, Grace Mathes, Amanda (Larry) Metante, and Sean Schultz, great-grandchildren; Gavin Williams, Emory Swafford, and Larry Metante, Jr., brothers; Lawney Gilbert, Euvon Gilbert, Ty Gilbert, Berry Bishop, and Jeff Bishop, sisters; Dana Olendorf, Phyllis Fuson, Karen Luft, and Donna Hopper, several nieces, nephews, cousins, and many dear friends.
A Celebration of Shirley's Life will be held in the funeral home chapel on Wednesday November 12, 2014 at 1:00 p.m. with Rev. Freddie Savage officiating. The family will receive friends on Tuesday from 4-9 p.m. Burial will be in the Hale Cemetery.


Cemetery Details
Location
Hale Cemetery
Pikeville, TN 37367