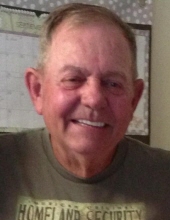 Obituary for Ted Junior Scruggs
Ted Scruggs, 68 of Pikeville passed away on January 4, 2015 after a courageous battle with cancer. Ted was a Chief Warrant Officer with the United States Navy having devoted over 27 years of service to his country. He served in Vietnam and retired in 1990.
Ted was a member of the Military Officers Association. Ted attended and was a member of Walden's Ridge Baptist Church. Some of Ted's favorite pastimes were spent bowling, fishing, and watching his grandchildren play sports.
He was preceded in death by his parents, Lindsey and Geneva (Mann) Scruggs; brother, Perry Scruggs; and a sister, Doris Johnson.
Left behind to cherish Ted's life are his wife of 48 years, Shirley Harvey Scruggs; daughters, Tammy Rikard and Cyndi (Joe) Spindler; both of Canton, Ga., grandchildren, Cody and Jackson Rikard, and Becca and Ryan Spindler; brother, Tommy (Annette) Scruggs; Jacksonville, FL., sisters, JoAnn (Bill) Gibson, Spring City, TN., and Nancy Langley, Lakeland, FL.,
A Celebration of Ted's life will be held in the funeral home chapel on Thursday January 8, 2015 at 1:00 p.m. CST with Bro. Jerry Leavengood officiating. The family will receive friends on Wednesday evening from 5-7 p.m. CST.
Please share your thoughts and condolences online at www.pikevillefuneralhome.com.
Pikeville Funeral Home entrusted with arrangements.