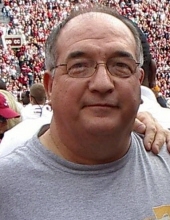 Obituary for Thomas Jennings Bilbrey
Thomas Jennings Bilbrey, age 69 of Pikeville, died Thursday, December 12, 2019. Jennings was in the Navy for twenty-two years and worked as a Radio Communications Operator. He was a member of the Griffith Church of Christ, enjoyed fishing, hunting, and golf.
Preceding Jennings in death were his parents, Roy and Sarah J. Gaines Bilbrey; brother, Floyd Bilbrey; sisters, Stela Earnestine King, Lois Beatty, Glenna Harris.
Jennings will be dearly missed by his wife of forty-eight years, Deborah Johnson Bilbrey; son, Tommy Bilbrey; daughter, Theresa (Christopher) Davis ; grandchildren, Ann-Marie, Adam, Christian, MacKenzie, Benjamin; great-grandchildren, Amelia, Liam, TheaRose, Maverick; brother, Lloyd (Kitty) Bilbrey; sisters, Jewel Pauline Fann, Louetta (George) Goga; several nieces, nephews, cousins; and a host of friends.
A celebration of life with Military Honors will be 2:00 pm CST Wednesday, December 18, 2019 in the funeral home chapel with Bro. Jeff Simmons officiating. The family will receive friends 12:00-8:00pm CST Tuesday, December 17, 2019 and 10:00 am CST Wednesday until service time at Pikeville Funeral Home.
Condolences can be made at www.pikevillefuneralhome.com. Pikeville Funeral Home was entrusted with arrangements.