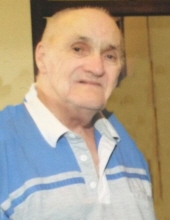 Obituary for Vance Allan Crawford
VANCE ALLAN CRAWFORD, 81, OF DEARBORN HEIGHTS, MICHIGAN, DIED ON SATURDAY, MAY 28, 2016 IN DEARBORN MIGHIGAN SURROUND BY HIS WIFE AND SONS.
HE WAS BORN ON OCTOBER 24, 1934 IN BLEDSOE COUNTY AND WAS A GRADUATE OF BLEDSOE COUNTY HIGH SCHOOL CLASS OF 1953. HE WAS ALSO AN AVID SPORTS LOVER; HIS FAVORITE TEAMS TO CHEER FOR WERE THE DETROIT TIGERS, THE UNIVERSITY OF MICHIGAN AND THE UNIVERSITY OF TENNESSEE.
HE WAS EMPLOYED WITH FORD MOTOR COMPANY, IN DEARBORN MIGHIGAN ON JUNE 1, 1953. AFTER 30 YEARS OF DEDICATED SERVICE, HE RETIRED FROM FORD MOTOR COMPANY ON JUNE 1, 1983.
VANCE WAS PRECEDED IN DEATH BY HIS PARENTS, ARTHUR LEE CRAWFORD AND MARY EDITH SMITH CRAWFORD AND HIS LOVING PARENTS-IN-LAW JOHN DUDLEY LEWIS AND LUCILLE BOSTON LEWIS.
VANCE WILL BE MISSED BY HIS WIFE, HELEN LEWIS CRAWFORD, SONS, MICHAEL (CLAUDETTE) CRAWFORD AND DONALD (LEANEAU) CRAWFORD, and DAUGHTER, MICHELE (RONNIE) ANGEL. VANCE WAS BLESSED WITH FIVE (5) GRANDSONS; JOSEPH, JOEL, JASON AND JEFFREY CRAWFORD AND THE HONORABLE JUDGE JUSTIN CRAWFORD ANGEL, FOUR (4) GRANDDAUGHTERS; DAYNA CRAWFORD, JENNIFER CRAWFORD LAPLANTE, KRISTIN ANGEL AND JAMIE ANGEL STAPLES, FIVE (5) GREAT GRANDCHILDREN; BROOKE, LAUCHLIN AND KAREGAN CRAWFORD, ASHER ANGEL AND NOLAN STAPLES.
VANCE WAS AN ONLY CHILD BUT WAS BLESSED WITH LEWIS SIBLINGS AND THEIR FAMILES. JEANNETTE THURMAN, GWEN BROM, GORDON LEWIS, BRENDA HALL AND BEVERLY LOYD, LOVING COUSINS, NIECES, NEPHEWS AND FRIENDS, AND HIS SPECIAL FRIENDS, BILLY BROM AND VIRGIL FERGUSON, SPECIAL COUSINS, FRANCIS & LAVAUGHN BELL, MARTHA LOU DEBORD AND BILLY CAMPBELL.
PALLBEARERS WILL BE HIS 5 GRANDSONS AND SON-IN-LAW. HONORARY PALLBEARERS WILL BE HIS 4 GRANDDAUGHTERS.
THERE WILL BE A CELEBRATION OF HIS LIFE ON SATURDAY, JUNE 4TH AT 12:00 P.M. CDT AT PIKEVILLE FUNERAL HOME. THE FAMILY WILL RECEIVE FRIENDS ON FRIDAY JUNE 3RD FROM 3:00-800 P.M. CDT. THE HONORABLE JUDGE JUSTIN ANGEL WILL CONDUCT THE CELEBRATION. BIBLE VERSE AND PRAYER BY STEVE THURMAN. BURIAL WILL BE IN THE BUD SMITH CEMETERY.


Cemetery Details
Location
Bud Smith
Bud Smith Cemetery Rd
Pikeville, TN 37367