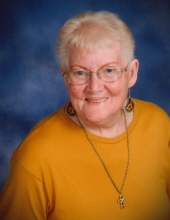 Obituary for Vera Hogan
Vera Walling Hogan, age 85 of Pikeville, died Sunday, December 16, 2018. Vera loved her family, enjoyed reading her Bible, sewing, crocheting, and had worked as a factory worker in the textile industry. She was a Lady Auxiliary member for the Mt. Crest Fire Department and a member of Bethel Church of Christ.
Vera was preceded in death by her parents, John Alfred and Audie Bell Byrd Walling; husband of fifty years, Fred L. Hogan, Jr.; daughter, Genese Schutt; brothers, Archie, Taylor and Ray Walling; sister, Ella Anna Lee Rohn; grandchildren, Peyton Schutt, Lynzee Rudd; great-grandchildren, Kamden and Ezekiel Hogan.
Survivors include her daughter, Lajuan (Ray) Wilmoth, Gwen Walling, FL, Linda Goodwin, AL; son, Freddy (Carla) Hogan; brothers, Ernest (Arlene) Walling, Al, Carroll Walling, Pikeville; sister, Ada Wheeler, Pikeville, Alberta Kelly, Nashville; nine grandchildren, twenty-three great-grandchildren; several nieces, nephews, cousins, and a host of friends.
A celebration of life will be 11:00 am CST Wednesday, December 19, 2018 in the funeral home chapel with Bro. T.A. Smith officiating. Burial will be in Walling Cemetery. The family will receive friends 1:00-8:00 pm CST Tuesday, December 18, 2018. The ladies Auxiliary of Mt. Crest fire Department will be serving as honorary pallbearers.
Condolences can be made at www.pikevillefuneralhome.com. Pikeville Funeral Home was entrusted with arrangements.