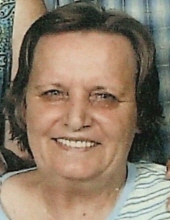 Obituary for Wanda Jewell Holland
Wanda Jewell Wyatt Holland, age 72 of Pikeville, passed away Monday, May 30, 2022. She was of the Baptist faith, enjoyed playing cards, games "especially Parcheesi", watching games shows, and loved being with her family and all people.
Preceding Wanda in death was her parents, Emmitt Bradley and Mae Beatrice Cordell Wyatt; brothers, Charles "Pig" Wyatt, Gayness Wyatt; sister, Shirley Templeton, Patricia "Trish" Lewis; brothers-in-law, Cleve Cantrell, Alvin Lewis; sister-in-law, Jewell Wyatt.
Survivors include her daughter, Sandra (Carlton) Lewis, son, Don (Brenda) Mooneyham; grandchildren, Jesse Mooneyham, Brandy (Schun) Smith, Thomas Farmer, Amanda (Josh) Stewart, William Lewis; great-grandchildren, Laydon Mooneyham, Gab, Raina, and DeRon Smith, Hayven, Harley, and Chevelle Stewart; sisters, Pat Cantrell, Mary (Dennis) Johnson; brothers, Everett "Ebb" (Donna) Wyatt and Bill (Linda) Wyatt; sister-in-law, Laura Evans; several nieces, nephews, cousins, and a host of friends.
A celebration of life will be 10:00 am Thursday, June 2, 2022 in the funeral home chapel with Bro. Steve Haston officiating. Burial will be in Seals Cemetery. Those serving as pallbearers are William Lewis, Jesse Mooneyham, Chuck Wyatt, Chris Baker, Calvin Wyatt, and Josh Stewart. The family will receive friends 5:00pm-9:00pm CDT Wednesday, June 1, 2022 at the funeral home. Condolences can be made at www.pikevillefuneralhome.com. Pikeville Funeral Home was entrusted with arrangements.
Read More