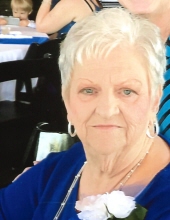 Obituary for Wanda Faye Kerley
Wanda Faye Kerley, age 73 of Pikeville, passed away Friday, January 3, 2020 with family by her side. She worked in a textile factory and also worked as a cashier clerk. Wanda loved her children, grandchildren, and visiting with friends and neighbors.
Preceding Wanda in death were her parents, Bill and Lennie Jenkins Underwood; sister, Peggy Walker.
Wanda will be dearly missed by her husband, Dewey Kerley; daughter, Debbie (Dwayne) DeBord; grandsons, Matt (Shauna) DeBord, Tyler (Haylee) DeBord; great-grandsons, Colt, Jake, Lincoln, and Sawyer; brothers, Tom (Carol) Underwood, Wes (Katie) Underwood; several nieces, nephews, cousins; and a host of friends.
A celebration of life will be 3:30 pm CST Sunday, January 5, 2020 in the funeral home chapel with Bro. Doyle Ashburn and Bro. Milton Ker officiating. Burial will be in Tollett Cemetery. Visitation with the family will be 4:00-8:00 pm CST Saturday, January 4, 2020.
Condolences can be made at www.pikevillefuneralhome.com. Pikeville Funeral Home was entrusted with arrangements.
Read More