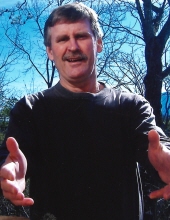 Obituary for John L Wilhoit, III
John Lafayette Wilhoit, III, age 69 of Pikeville, passed away April 9, 2020, after an extended illness. While growing up John L. loved being outside, had a pet skunk named Skunky, enjoyed playing pranks, riding horses, going to antique stores, bird and coon hunting, and going fishing with his dad. He was a member of Dunlap First Baptist Church and was a graduate of Baylor High School then received his dental degree from UT Memphis. John L. moved to Pikeville and worked at his private practice for thirty-seven years doing the profession he loved. In return, he was loved by all his patients who thought of him as always being a fun loving person and jokester. He was called "the painless dentist" and loved to use gold in the patient mouth when possible. During this time he was a member of the TDA, ADA, Crossville Dental Association, and Bledsoe County Fair Association. After his retirement, he enjoyed boating, going on vacations, and looking through Antique Shops with his wife Vanda. He learned to have a love for Antiques by being with Mrs. Elizabeth Morgan. John L. has several antiques from picking up silverware that Mrs. Morgan taught him to collecting other pieces he liked.
Preceding John L. in death were his parents, John Lafayette, Jr and Mary Ellen Veasey Wilhoit; wife, Martha Housley Wilhoit; grandparents, John Lafayette Wilhoit, Sr. and Mary Ruth Brown, Sarah Edwards Veasey and Eddie Hill Veasey; infant sister; stepfather-in-law, George William Hixson; stepmother-in-law, Bonnie Vann Hixson.
Survivors include his wife of twelve years, Vanda Wyatt Wilhoit; three daughters that he loved very much, Stephanie (Doug) Ferguson, Anchorage, Alaska, Tiffany (Matt) McClaran, Arrington, TN, Brittany (Justin) Miller, Buffalo, New York; two step-sons, Shawn (Jennifer) Wyatt, Brian (Rachel) Wyatt, Pikeville; sister, Kathy (Rick) Cagle, Dunlap; grandchildren, Matthew, Ian, and Phoebe Ferguson, Myles, Sophia, and Leo McClaran, Jaxson and William Miller; step-grandchildren, Cameron Bryant, Nathaniel and Macie Wooden; niece, Kim (Jason) Zurawick, Signal Mountain, nephews, Daniel (Beth) Cagle, Dunlap, Brett (Kristin) Cagle, Chattanooga, ex-wife, Julie Morgan Scott, Chattanooga; cousins, and a host of loving friends.
The family will have a private graveside burial and will have a celebration of life at a later date.
We would like to thank Dr. Smith, Dr. Dibrell, Amedisys Hospice nurses Lisa Layne and Wilma Billingsley, At Home Health Care, Sueann Lulu Keltch ;Angie Hogan and Robin Smith who were his caregivers. Also thanks to all of John's former employees who gave me so much support during this difficult time.
Condolences can be made at www.pikevillefuneralhome.com. Pikeville Funeral Home was entrusted with arrangements.
Read More