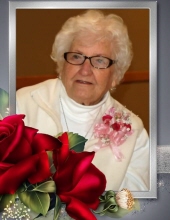 Obituary for Ruth B Moore
Ruth Blaylock Moore, age 94 of Pikeville, went to meet her Heavenly Father and claim her reward in Heaven on Saturday, October 10, 2020 and join her husband and son who were waiting for her. She was born in the Litton Community in Bledsoe County. Ruth was a member of First Southern Baptist Church where she was a member of the Adult IV Sunday School Class which will be serving as honorary pall bearers at her service. She enjoyed worshiping and fellowship with her church family and was a faithful servant, exemplary Christian and a model of humility. Before her husband's death, they did the nursing home ministry for thirty years. She was a loving wife, mother, grandmother, great-grandmother, great-great-grandmother, sister, aunt, and friend. For many years until her retirement, she was Director of the Bledsoe Senior Citizens Center and manager of Birchwood Village Senior Apartments where she delighted in working with and being of service to senior adults. After her retirement, her passion became hand quilting dozens and dozens of beautiful intricately sewn quilts. It was not unusual for her to spend all day quilting –totally losing track of time. Before moving to Pikeville, she worked in the Roane Hosiery Mill in Roane County. She also enjoyed eating, canning, ceramics, and traveling. You mention the word "GO" and she'd say "I've got my bags packed."
Preceding Ruth in death was her husband of sixty-three years, C. B. Moore; son, Phillip Moore; parents, Sidney Beecher and Revie Kerley Blaylock; sisters, Velma and Jackie DeBord, Josephine Freels, and Dora Swafford.
Left behind to cherish her memory are her children, Patsy (Roy Joe) Angel, Teresa Mabry, Conrad (Brenda) Moore, Myki (Larry) Frady, Jimmy Moore; daughter-in-law, Sandy Moore; grandchildren, Melinda Heald, Bobby Angel, Kelli Hanson, Chad (Deanna) Moore, Zack Moore, Amanda Moore, Fran (William) Barker, Martha DeBord, Charlie (Golie) Frady, Jennifer Frady; nineteen great-grandchildren; eight great-great-grandchildren; brother-in-law, Larry Swafford; several nieces, nephews, cousins, special caregiver, Melissa Harvey, and a host of friends.
A Celebration of Life will be11:00 am CDT, Tuesday, October 13, 2020 in the funeral home chapel with Bro. Jim Whitaker and Bro. Albert Roberts officiating. Burial will follow in the Big Lick/Hill Crest Cemetery in Cumberland County. The family will receive friends 4:00 pm - 9pm CDT Monday, October 12, 2020.
Condolences can be made at www.pikevillefuneralhome.com. Pikeville Funeral Home was entrusted with arrangements.