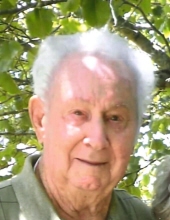 Obituary for Tommy Oral Johnson
Tommy Oral Johnson, age 92 of Pikeville, died December 16, 2020 at home with family by his side. Tommy was a truck driver most all his life starting work for his daddy at a young age at the Sawmill, Morgan Pallett Company, Harley Bickford Trucking, Roy Joe Angel Construction, and Eston Angel Construction. Tommy was a member of Pikeville Church of God and also attended Cold Springs Baptist Church with his wife. Tommy enjoyed going out to eat, especially the Veteran's Club and Rescue Squad breakfast with his brother-in-law Ken, talking to people, (he never met a stranger), and loved spending time with his family, especially his grandchildren and great-grandchildren who he loved as his own. He always looked forward to Eston coming over at night and enjoyed weekend getaways in Pigeon Forge.
Preceding Tommy in death were his parents, Dutch and Jenny Bell Givens Johnson; step-mom, Claria Johnson; son, Danny Johnson; step-sons, Ricky and Cline Seals; sister, Inna Blanche.
Left behind to cherish his memory is his wife of thirty-five years, Helen Seals Johnson; step-daughter, Sherry (John) Campbell; siblings, Ganelle Brock, Angie (Ken) Speelman, Greg and Bruce Johnson; grandchildren, Robert (Toshia), Ashley (John Paul), and Brandon; great-grandchildren; Johnathan, Colt, Scarlett, and Ruby; one niece, two nephews, special care giver; Melissa Moody; several cousins, a host of friends and family.
A celebration of life will be 12:00 pm CST Saturday, December 19, 2020 in the funeral home chapel with Bro. Matt Lockhart officiating. Burial will be in Iron Hill Cemetery. The family will receive friends 3:00-8:00pm CST Friday, December 18, 2020 at the funeral home. In lieu of flowers donations can be made to Pikeville Funeral Home to help with final expenses. Please follow CDC regulations.
Condolences can be made at www.pikevillefuneralhome.com. Pikeville Funeral Home was entrusted with arrangements.
Read More