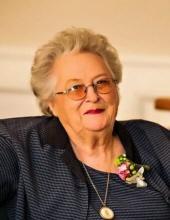 Obituary for Katherine Jaynese Hale
On March 11, 2021, Katherine Jaynese Davis Hale left this earth bound for her eternal home. Jaynese was born on January 10, 1933, in Long Creek, Mississippi. She made her home in Pikeville, Tennessee, in 1957.
Jaynese was a long-time member of Mt. Crest United Methodist Church, where she played the piano.

While here on earth, she endured the deaths of her mother Bessie Davis, father William "Bill" Davis, brother William "Billy" Davis, Jr., husband, David Clyde Hale, children, John David "JD" Hale, William "Billy" Hale, Jaynean Hale Guinn, daughter-in-law Kathy Hale, grandson, Billy Slater Hale, great-granddaughter, Taylor Pendergrass.

Left to treasure memories of her are her children, Lois (Douglas) Smith, Kathy (Dennis) Mills, Thomas E. "Tommy" Hale, Lee (Jaxter) Burnett, Mary (Levon) Bickford, Pearl Howard and Florence Buckner; son-in-law, Stanley Guinn;
grandchildren, Stacey Smith, Melissa Smith, Stephanie Monday, Craig Mills, Casey Sherrell, Curtis "Curt" Mills, Christi Hale, Cara Huard, Brandi Velotta, Ashley Bledsoe, Abby Whitson, John Burnett III, Cindy Cordell, Gail Bickford, Damien Howard, Adam Howard, Courtney Hale, Coltlyn Hale, Bryan Hale, James David "JD" Buckner, Emory Buckner, Patricia Jaynese "PJ" Thomas, Lanean Pendergrass, 17 granddaughters and grandsons-in-law, 48 great-grandchildren, six great-great grandchildren, several nieces and nephews, and many who loved her.

Funeral services will be conducted by her grandsons, Craig Mills, JD Buckner and Emory Buckner at the funeral home chapel on Monday, March 15, 2021, at 11:00. Visitation will be 5:00-9:00 Saturday, March 13, 2021, 12:00-5:00 Sunday, and 9:00-11:00 Monday. Those serving as pallbearers will be Brandon Smith, Curt Mills, Scout Mills, Kade Hale, John Burnett, Adam Howard, P. J. Thomas, Isaac Pendergrass, and Tristan Pendergrass. Interment will be at Beaver Hill/Hale Cemetery following the service.

Pikeville Funeral Home is handling the arrangements for Mrs. Hale.
Condolences can be made at www.pikevillefuneralhome.com. Pikeville Funeral Home was entrusted with arrangements.
Read More