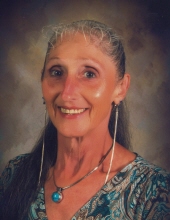 Obituary for Carolyn Elizabeth Hughes
Carolyn Hughes, age 65 of Pikeville, died Wednesday, June 12, 2019. She had a love for children and due to that love became a Teacher's Assistant at Rigsby Elementary School which she enjoyed for over twenty years. Carolyn also enjoyed going to the "Indian Pow-Wow", crafts, and was of the Baptist faith.
Preceding her in death were her parents, John Howard and Lenis C. Thurman Hughes; brothers, Clay, Homer, and Donnie Hughes; sisters, Bernice Godsey and Dorothy Blaylock.
Survivors include her long time companion, Lewis Williams; son, Gregory Hughes, KY; daughter, Tonya (Melissa Bradley) Hughes; sisters, Darlene (David) Pelfrey, Spring City, Brenda Williams, Evensville, Vernie Jordan, N.C.; brother, Junior (June) Hughes, TN Mile; special niece, Melody Pelfrey; many nieces, nephews, cousins, and a host of friends.
A memorial service will be Monday, June 24, 2019 at the Hughes Family Cemetery with Bro. Junior Hughes. The immediate family will meet at 12:00 pm CDT with extended family and friends at 1:00 pm CDT.
Condolences can be made at www.pikevillefuneralhome.com. Pikeville Funeral Home was entrusted with arrangements.
Read More