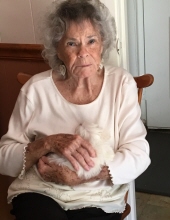 Obituary for Margaret Ayne Strickler
Ayne Margaret Finch Strickler, age 87 of Pikeville, formerly of Chattanooga, died peacefully with family by her side, Saturday, July 13, 2019. She loved working in her flower gardens and passed that trait down to her daughters and grandchildren.
Ayne was preceded in death by her parents, Ralph and Etta Gossett Finch; three sisters and one brother.
Survivors include daughters, Alayne Perry, Pikeville, Peggie (Billy) Skiles, Chattanooga, and Pam (Joel) Standefer, Pikeville; five grandchildren; eight great-grandchildren; sister, Bobbie (Phil) Easley, Dickson, and dearly loved by a host of friends.
A memorial service will be held at a later date.
Condolences can be made at www.pikevillefuneralhome.com. Pikeville Funeral Home was entrusted with arrangements.
Read More